A comprehensive guide for golf enthusiasts on where to tee off in Thailand
Click here all Thailand green fees - save up to 50% when you book here
Thailand is known for its pristine beaches, exotic food and nightlife and diverse culture. People flock to this country to enjoy holidays with families or have an adventure with their close friends. What is less well known is that Thailand is also home to some of the best golf courses in Asia.
Back in the 1980's and early '90s, many Thai golf courses were built as part of residential property developments with developers hoping that by adding a golf course to the master plans it would help to sell the houses. It worked at first but after the first Asian crisis things stalled and following the market crash of '97, golf courses owners had to rethink their plans and try to make the golf course pay its way. Around the same time many of the most famous golf course designers such as Jack Nicklaus, Greg Norman and Robert Trent Jones Jr. were looking to ply their trade in Asia and some of their names appear on this list of the best golf courses in Thailand. These world-famous designers are very expensive and this also spawned a new generation of local Thai designers who learnt their trade watching these legends of golf at work and have also been responsible for some designing some great Thailand golf courses.
Here is our list of best golf courses in Thailand – in no particular order.
Doesn't get much better than this!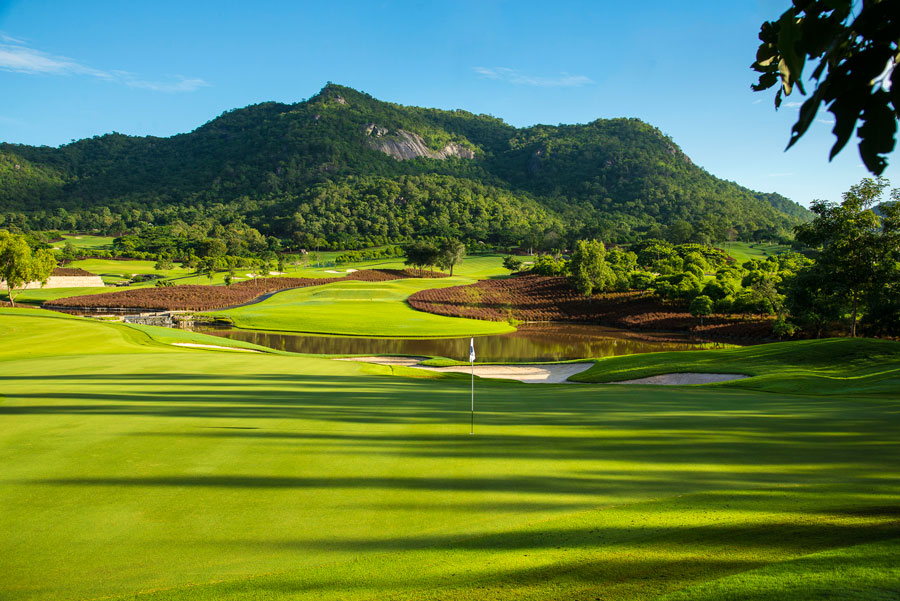 This is probably the most high profile golf course in Thailand as it has hosted numerous professional events including the Royal Trophy and more recently the Thailand Classic which is an Asian Tour and European Tour co-sanctioned event attracting some of the biggest names in golf. The course is beautifully presented and is immaculate in every respect and they are continually tinkering with the course to make it better. Although the course is highly manicured, it still retains a very natural feel as they have retained many of the original trees and planted many more. They have also cleverly incorporated the natural streams that run through the property into the design. They are currently building another nine holes and their intention is to build the best nine holes in Thailand and we have no doubt that they will achieve their aim. They have the best caddies and a beautiful clubhouse serving excellent food and the best stocked pro-shop we have ever seen. Other facilities include a spa and fine dining restaurant.
Location: Just off Hua Hin bypass 30 minutes from Hua Hin
Birdies: Excellent clubhouse facilities, superb service
Bogeys: Gets very crowded in high season, poor club hire selection
Favorite Hole: The 2nd hole on Mountain Course. Downhill par-3 to island green.
Definitely one to add to your bucket list!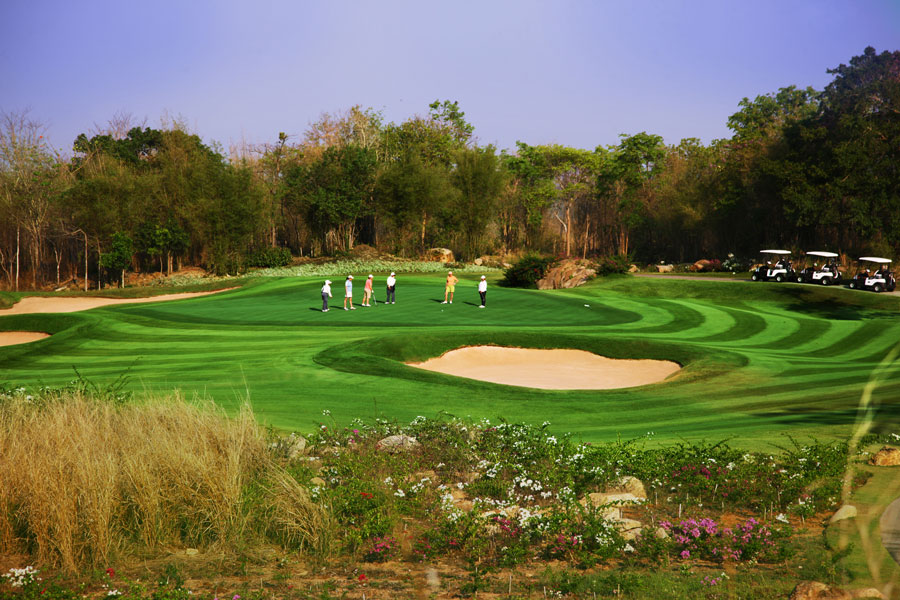 Banyan Golf Club opened in 2008 and was designed by well-known Thai golf course designer Pirapon Namatra. The course has been built on the site of a former pineapple plantation very close to the centre of Hua Hin with great views towards the mountains of Burma and occasional glimpses of the Gulf of Thailand. The course has been set up to appeal to golfers of all standards with a choice of six tee boxes. The Zoysia grassed fairways are usually in immaculate condition and the TifEagle Bermudagrass used on the greens means that they run fast and true. The contemporary Thai-style clubhouse features luxurious changing rooms and with some accommodation. The course has won numerous awards including recognition by Asian Golf Monthly and also featured in the Rolex list of the Top 1000 golf courses in the World. The carts which are optional are fitted with the latest GPS positioning system which helps to take the guesswork out of shot selection.
Location: 20 minutes from centre of Hua Hin
Birdies: Excellent caddies, good practice facilities, GPS in golf carts, and a pub to watch the sunset over a cold beer.
Bogeys: The one-player, one cart policy.
Favorite hole: The signature par-3 15th. Tee off from an elevated tee box to a narrow green 140 yards below.
A beautiful but challenging course with wonderful views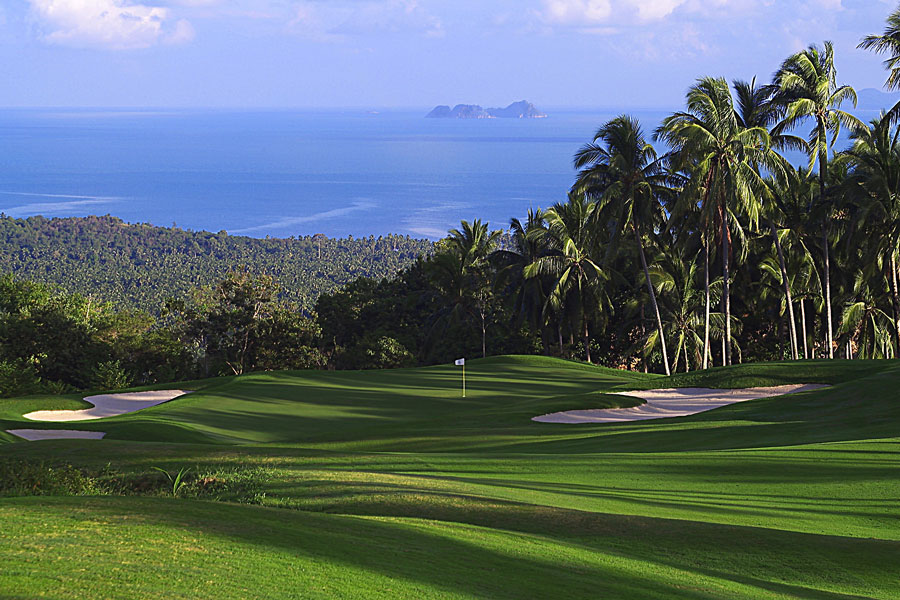 Another Pirapon Namatra-designed course and the only 18-hole course in Koh Samui. The course meanders across the foothills with fantastic views over the surrounding countryside, the sea and the islands beyond. The course is difficult and the back nine is especially challenging with many blind tee shots to narrow jungle-lined fairways and some quite dramatic elevation changes. The greens, although a generous size, are also quite challenging and often have several levels which makes finding the right level essential to score well. The course is dotted with the native coconut trees which often block your path to the green so you need to place your shots carefully. You won't be needing your driver too much on the course as caution is the order of the day and even the most ardent walkers will be glad of the cart as this is a very strenuous course to walk.
The clubhouse is located in a commanding position with 360 degree views of the course, the beaches and sea beyond and is a perfect place to enjoy a snack and something cold as you watch the sunset. Average practice facilities and a reasonable pro-shop.
Location: North coast of Koh Samui
Birdies: Complimentary shuttle bus rides to and from some hotels, no handicap requirement for beginners
Bogeys: No hazard markers so you have to decide before you start how you will treat balls lost in the jungle.
Favorite Hole: The short par-3 6th hole which drops more than 40 meters from tee to a green with a severe drop-off around the back.
Incredible views and some dramatic holes but very expensive!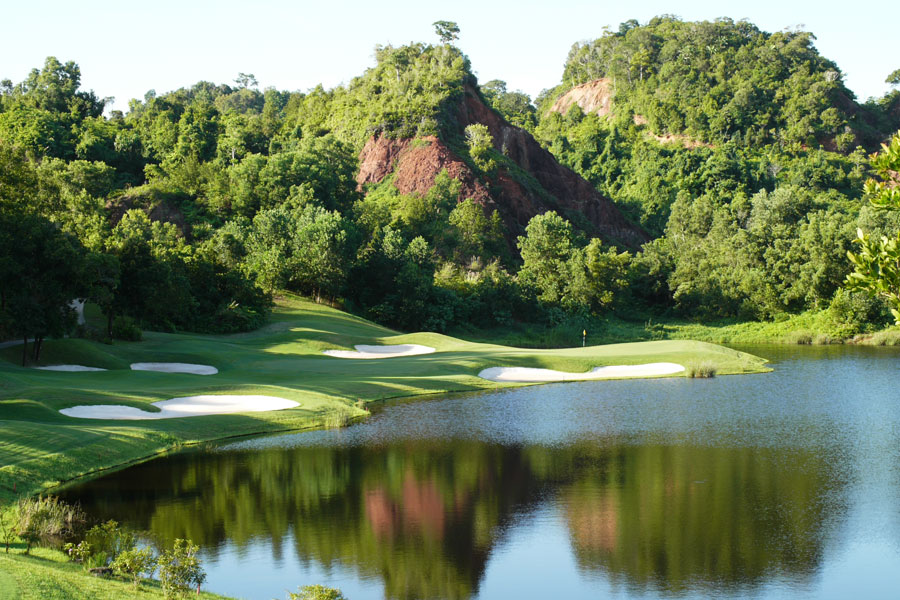 Most visitors to Thailand rave about this golf course because it is so visually exciting. It is difficult to believe that they managed to carve out a golf course in amongst the red sandstone hills that lend the course its name and the numerous lakes left behind from the tin mining operations. It was the first golf course designed by John Morrow and he has done a wonderful job. He encountered serious design issue towards the end of the back nine and was forced to build a slightly mickey-mouse hole for the 17th which is a par 3 with a 50 meter drop from tee to green – it's a fun hole but not a real golf hole. The course is quite challenging for higher handicappers with long carries off some tee boxes and quite a few very narrow landing areas. The course is usually in immaculate condition and rarely very busy as many are put off by the high cost. The course has never hosted a major professional golf event and is unlikely to ever do so because it is impossible to walk with quite long uphill stretches between holes. A nice modern clubhouse in an elevated position overlooking the 18th green, good practice facilities and well-trained caddies.
Location: Central Phuket near Kathu
Birdies: Beautiful scenery, greens and fairways in top shape, great clubhouse
Bogeys: Very expensive and English standards of caddies could be better
Favorite Hole: The short par-3 17th hole which drops more than 40 meters from tee to a green through the jungle canopy.
Still setting the standard for golf courses in Pattaya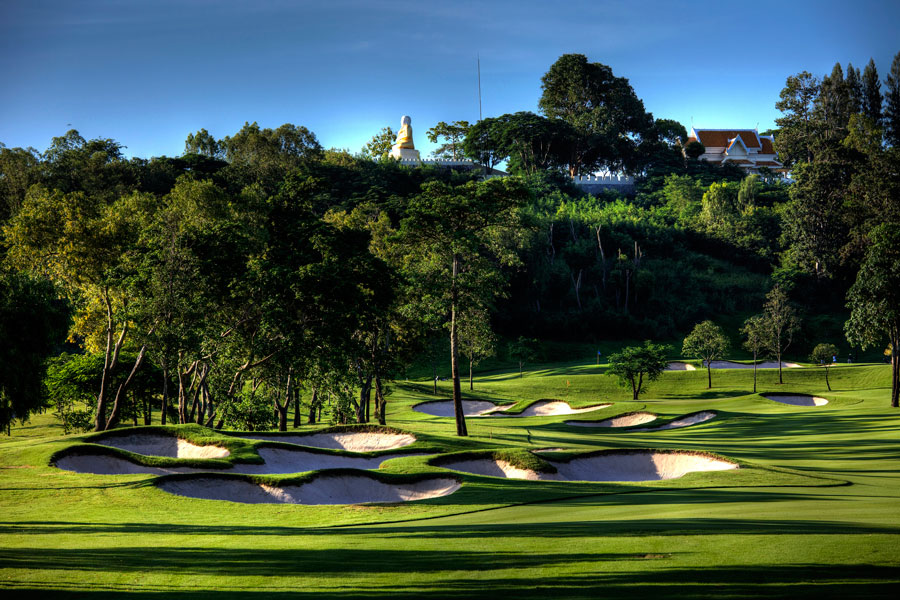 If we had to pick one course out of all the courses on this page then it would probably be the Old Course. This is a wonderfully mature parkland course which annually hosts the LPGA Honda Classic, an event which attracts the top women players from around the world. Many of the holes play alongside a series of lakes and creeks so you need to be driving accurately in order to score well and the numerous fairways bunkers are always lying in wait to catch the wayward drive. The putting surfaces are generous but are very quick and full of undulations so you will probably need the help of your experienced caddie to decipher the breaks. The pick of the holes are probably the last four and they are all potential card-wreckers and the 18th in particular which is a medium length par-5 can tempt you to get up in two but plenty of danger lurks around the multi-tiered final green and the hopes of many professional lady golfers have been dashed here. Slightly old clubhouse in a commanding position overlooking the 18th green
Location: East of Pattaya – 30 minutes from city
Birdies: Fantastic layout – great caddies
Bogeys: Driving range is a bit far away
Favorite Hole: The 9th – fantastic finish to front nine in shadow of Buddha
Excellent maintenance on this challenging 27-hole layout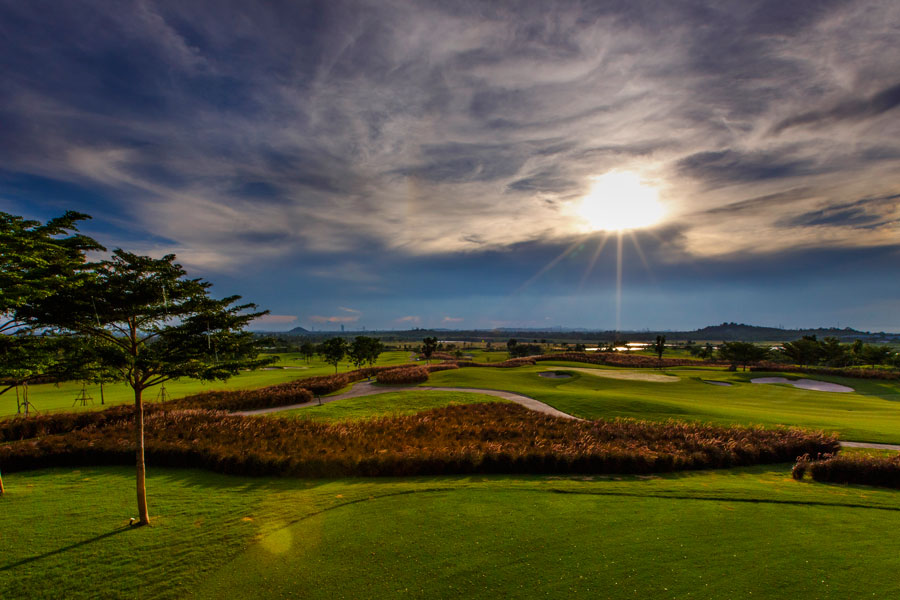 This is the most difficult course in the Siam Country Club stable and probably the most picturesque. This is a 27-hole layout built on the site of a former pineapple plantation with great view towards the sea and the city. There are plenty of elevation changes here which makes club selection a challenge – especially on some of the par-3s. The course presents one challenge after another in the shape of blind tee shots, huge bunkers that you can only dig your way out of, undulating fairways and fast greens that are fiendishly difficult to read. If that wasn't enough the course is also long, very long and at nearly 7,500 yards one of the longest in Thailand. There is a huge green complex in front of the club house which combines three holes – the 7th from the Tapioca course and the 4th & 9th from the Pineapple course. The third nine is aptly named the Sugar Cane course which we think is probably the best of the three and includes a par 5 with no less than 28 bunkers. Wonderful purpose-built clubhouse with great views over the course and top class practice facilities
Location: East of Pattaya – 30 minutes from city
Birdies: Superb practice facilities –great clubhouse
Bogeys: Difficult to fault
Favorite Hole: The 5th – par 5 with 28 bunkers!
An old favourite designed by a master and still one of best in Pattaya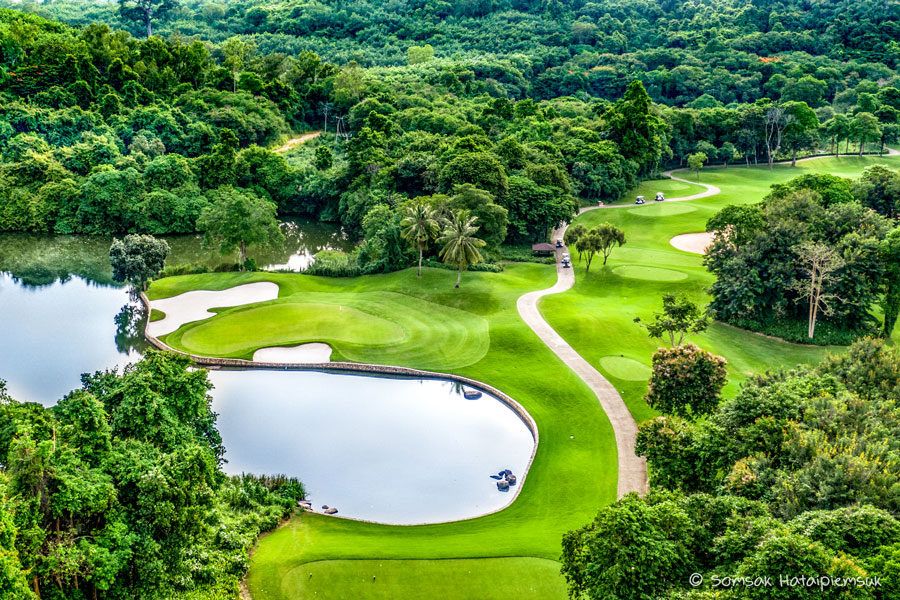 Another Jack Nicklaus masterpiece, Laem Chabang has been around for more than 20 years and despite the arrival of many newer courses has managed to maintain its position as one of the premier courses in Thailand. There are three different nines and each of them offer a very different challenge. The Mountain Nine, as its name suggests, presents many elevation changes but the fairways are quite generous however the greens, in true Nicklaus style, are slightly elevated and well protected by bunkers. The Valley Nine is our favorite of the three layouts with several holes running alongside a large lake. The narrow fairways and small greens require careful shot making and it will really test your game. The Lake Nine plays along relatively generous tree-lined fairways which don't present too many problems if you can keep out of the trees. Plenty of large bunkers which you should also keep well away from. The 6th hole is particularly memorable with its deceptive fairway and water fronting the green. Night golf is available but the lights only illuminate the white tees but the visibility is generally excellent and is a good option if you don't like the heat. This is a superbly managed course - always in excellent condition with one of the best clubhouses around serving Japanese and European specialties a la carte or buffet style. This is a superb championship golf course.
Location: Just off main Bangkok highway 30 minutes from Pattaya
Birdies: Excellent clubhouse facilities, great practice facilities, night golf
Bogeys: Carts never allowed on fairways, no single golfers
Favorite Hole: The 2nd hole on Mountain Course. Downhill par-3 to island green.
The latest course to open in Pattaya and already receiving rave reviews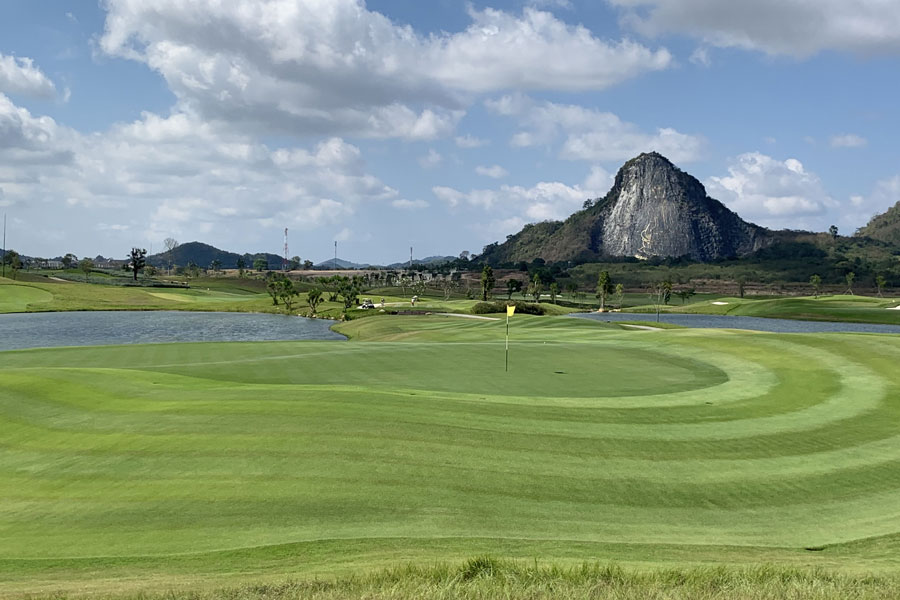 One of the newest golf clubs in Thailand, Chee Chan Golf Resort, opened for play in 2019 and is situated just 40 minutes' drive away from Pattaya Beach. You could enjoy a lovely round of golf and be back on the beach in no time.
The views from this golf course are tremendous with Khao Chee Chan, temples, lakes and mountains providing the backdrop to the golf. The course overlooks the Khao Chee Chan Buddha and there are views of Pattaya and Jomtien in the distance. Chee Chan Golf Resort offers a links style playing experience and does it very well. Some of the holes are very long and there are large bunkers ready to collect any wayward shots. Chee Chan Golf Resort comes highly recommended for anyone staying Pattaya.
Location: 40 minutes south of Pattaya
Birdies: Superb conditioning of the course
Bogeys: The course is very long and secondary rough too punishing
Favorite Hole: The 14th – a monster par 5 with plenty of hazards
A mature course which continues to improve with age - a must-play course in Bangkok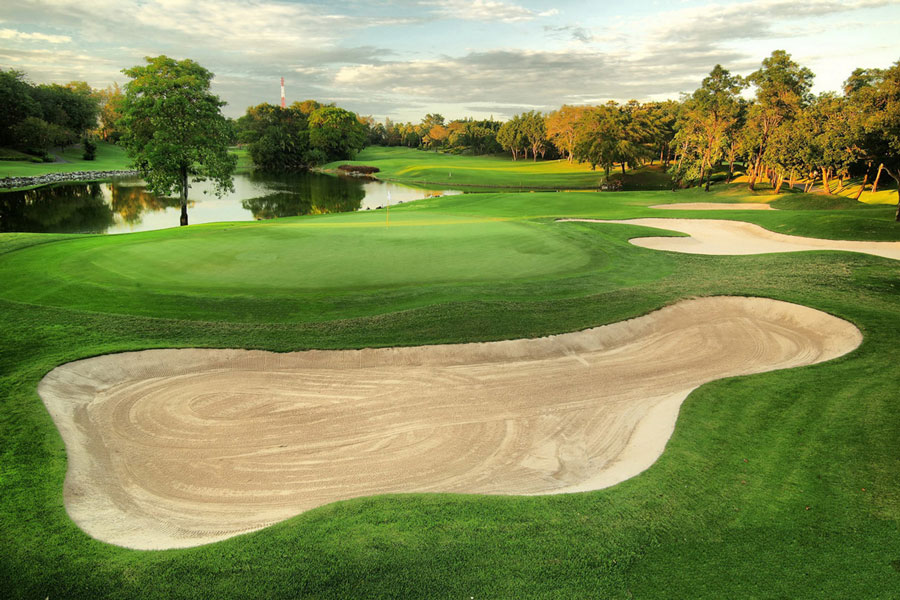 Alpine Golf & Sports Club is one of the top courses in Thailand and ranks with anything in Asia. It was created by legendary courses architect Ronald M. Garl and once hosted the Johnnie Walker Classic PGA tournament won by Tiger Woods. This is supposed to be a private members club but it is relatively easy, although a little expensive, to get on the course as a visitor. Although it is not a links course it has some huge beach bunkers and in many places water encroaches into the fairway. The fairways are always lush and a delight to hit off and the greens, although not the fastest, run straight and true. The course is extremely picturesque with great views in every direction offering a stunning landscape of trees, flowering shrubs and bright green fairways set against the water hazards. However the course is quite challenging with undulating fairways, plenty of water carries and some nasty looking bunkers protecting the greens. You need to be on top of your game and hit it quite long to venture off the blue tees so if you want a more enjoyable round you might be better to try the white tees. Caddies are okay but don't speak too much English but enough to get by. The food in the clubhouse is excellent.
Location: Northeast of Bangkok one hour from city
Birdies: Excellent food in clubhouse
Bogeys: Gets very crowded with tour groups, a bit far from town
Favorite Hole: The 12th – a par 3 with a huge bunker and heavily contoured green
Sets the standard for service excellence from start to finish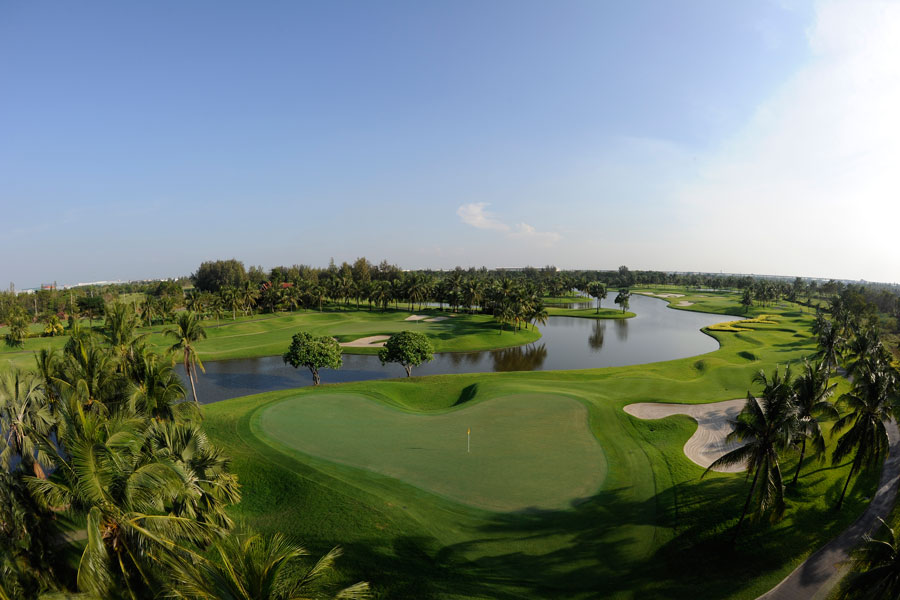 Thai Country Club is arguably the most exclusive private members club in Bangkok but they admit visitors on most days although they do reserve some of their prime tee times for their members. The service you will receive at this course is second to none – partly because the course is managed by a hotel group and the attention to detail and service levels are up to a level that you would expect to receive at a 5-star hotel. This is another course that has been graced by Tiger Woods who won the Honda Classic here back in 1997. The course itself is not the greatest layout but it is always in immaculate condition. Having said that many of the fairways have been contoured and the greens are often elevated and well-protected by bunkers. There are some very tough holes and the par 3, 6th which is more than 200 yards from the championship tees is statistically the most difficult hole on the course with bunkers in front of the green and water alongside the right. Probably the best caddies in Thailand – very well trained and most of them have been around for many years and know the course well. The locker rooms are luxurious and the food in the restaurant outstanding and the entire experience from beginning to end is faultless.
Location: Southeast of Bangkok one hour from city
Birdies: Superb all round service
Bogeys: Expensive and difficult to get tee times at weekends
Favorite Hole: The 6th – a par 3 once voted the best in Asia
A wonderful replica course and the next best thing to playing at Augusta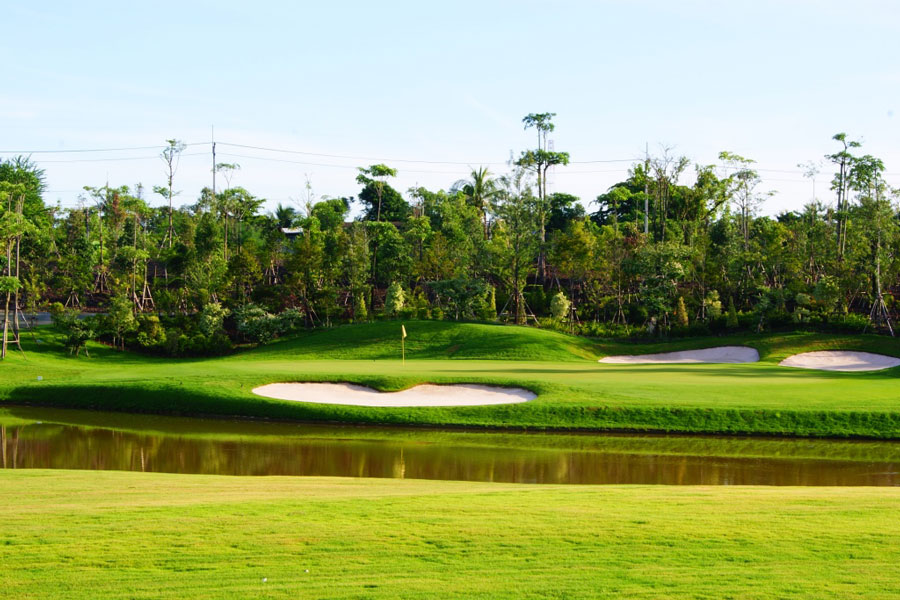 Not to be confused with the Royal Gems Golf & Country Club this is a relatively new course having opened in 2011. Soon after it opened it was completely inundated by the Bangkok floods so they had to totally replant everything. This is the first replica courses in Asia and is often referred to as the "Dream Arena". The front nine consists of famous holes from around the world and the back nine is a replica of the back nine at Augusta. We say replica but actually a better term is reminiscent of Augusta because, although some of the holes are very faithful to the original, others require some imagination. As the trees mature it will be more like the real thing but even now you can let your imagination run wild. Some of the famous names you will encounter on the front nine include the Postage Stamp hole from Troon, the Road Hole from St Andrews and the Pew Bunkers from Oakmont. One of the more intimidating holes is the replica island green from the 17th at Sawgrass. This is a private members club but they do allow visitors to play at certain times. A small but very nice clubhouse, super-luxury changing rooms and excellent practice facilities.
Location: North of Bangkok one hour from city
Birdies: Great fun and something to tell your friends about
Bogeys: We cannot think of anything
Favorite Hole: The 13th – part of Amen Corner and a classic risk/reward hole
The latest offering from the renowned Schmidt-Curley design team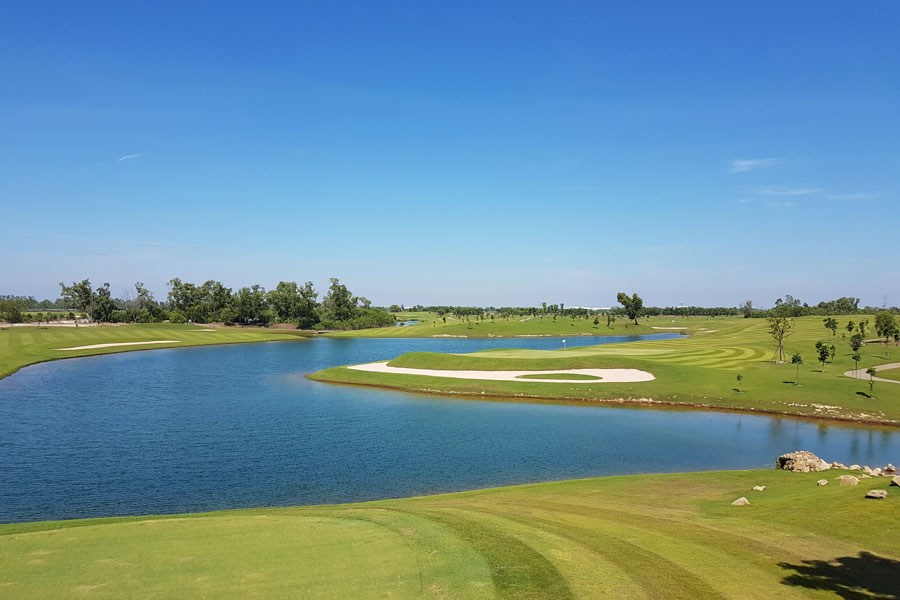 Situated an additional 10 minutes outside downtown Bangkok than Riverdale Golf Club you will find Royal Bang Pa-In Golf Club. This golf course was designed by Schmidt-Curley and it is close to Don Muang Airport, making it a good course for a round before or following a flight if you are using that airport.
Royal Bang Pa-In Golf Club is another of Bangkok's all-inclusive golf clubs and that means you pay one fee. The fee gains you access to the golf course, a caddie, golf cart, soft drinks and snacks to enjoy during the round. The greens are without doubt the standout aspect of this golf course and you will struggle to find many larger in Thailand. They are also very undulating and quick, making good putting a must for a low score.
Additional features of the golf course at Royal Bang Pa-In Golf Club include plenty of water and firm fairways, which can see tee shots travel further than usual. The clubhouse is very impressive and it even includes heliport should you want to arrive in style.
Location: North of Bangkok one hour from city
Birdies: Superb modern clubhouse with great food and service
Bogeys: During rush hour traffic can be bad
Favorite Hole: The par-3 17th hole with water all along the left
The first all-inclusive golf course in Bangkok with one price covering everything including food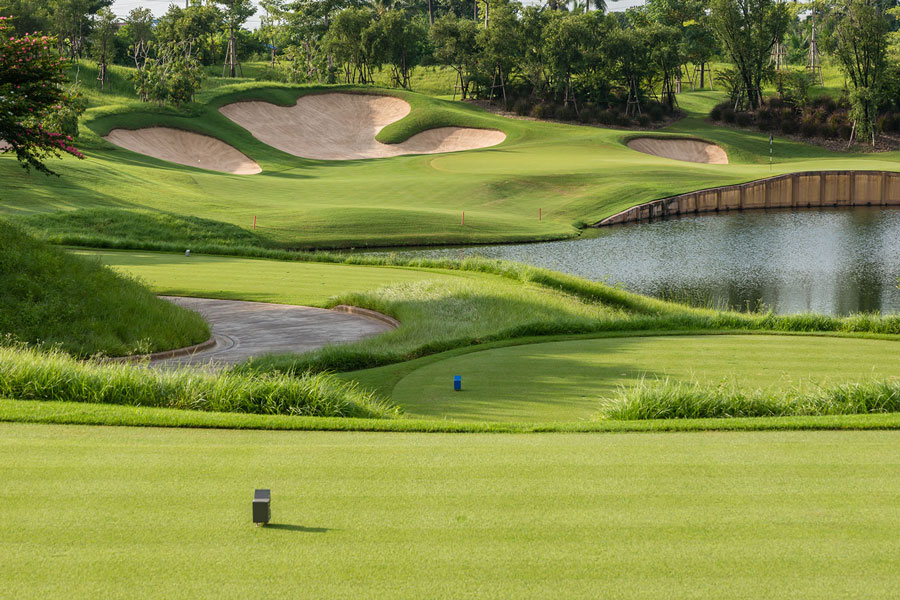 Nikanti Golf Club offers something a little different than most other golf courses in Thailand. The club is located an hour away from Bangkok and the course has been designed by Piraporn Namatra. What makes this golf club unique for courses in Bangkok is the distance, just 6,850 yards from the back tees and the layout, which is three sets of 6 holes.
Regardless of which set of 6 holes you play to begin your round; you will return to the club house having played the sixth hole. There are two par-3's, two par-4's and two par-5's on each of three sets of six holes.
The fairways throughout the course are wide but there are many elevation changes which make Nikanti Golf Club a good challenge, even for top players. The greens are undulating, significantly so in places and this only adds to the test of the course. The other aspect of Nikanti Golf Club which makes it different is the all-inclusive feature, which is not something most golf courses offer players.
Location: 90 minutes west of Bangkok
Birdies: Unusual three 6-hole layouts and wonderful freen food
Bogeys: The course is a long way from Bangkok
Favorite Hole: The 11th - a short par-3 with carry over water to green
Spectacular location in amongst the mountains of Chiang Mai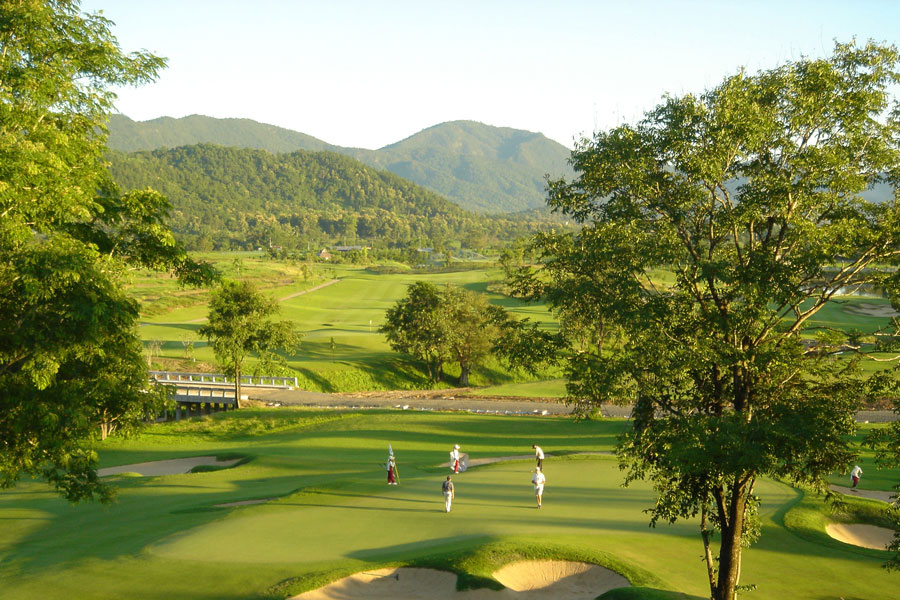 Chiang Mai has spawned a number of great new courses over the past few years and Chiang Mai Highlands still remains top of the pile. The course is in a spectacular location amidst the beautiful northern Thai countryside, circled by mountains. The course was designed by Lee Schmidt of Schmidt-Curley Design, who, together with his partners are responsible for some of the Asia's best courses. The course has won a host of awards over the years and with the addition of another nine holes is sure to win plenty more. The fairways have been laid with Paspalum grass and they have planted the greens with TiffEagle grass which provids an excellent surface for irons and smooth true greens all year round. One of the things that you will remember after your round are the numerous bunkers and the original 18 hole layout has more than 130 fairway and greenside bunkers so your sand iron will get plenty of practice. Even if you reach the green unscathed the undulating greens are tough to read and you will need to be on your best form to avoid too many of the dreaded three putts. A very nice Thai-style club house – with slightly tired-looking locker rooms but excellent food. Superb practice facilities on offer.
Location: East of Chiang Mai one hour from city
Birdies: Wonderful views, excellent practice facilities
Bogeys: Inconsistent caddies and expensive drinks
Favorite Hole: The 18th –wonderful roller-coaster par- 5 reachable in two
An old favourite but still one of best in Chiang Mai in spectacular surroundings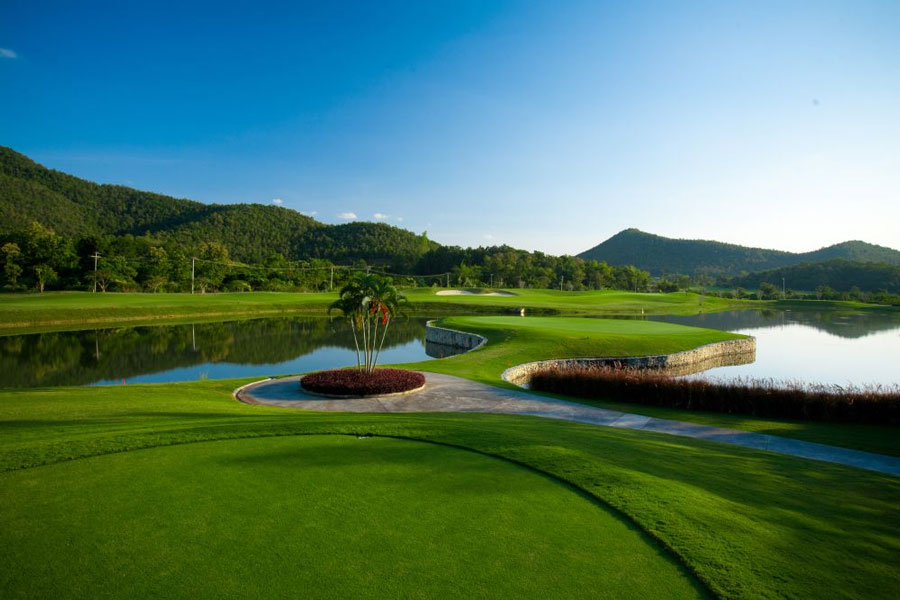 Travelling to the north of Thailand and you will come to Chiang Mai. Known for its traditional way of life, this region of the country is mountainous and there are some cracking golf courses to play. One of which is Alpine Golf Resort. This 27-hole golf course is 40 minutes away from the city and is easily one of the top golf courses in the north of Thailand.
The nature surrounding Alpine Golf Resort is superb, from the nearby lush green forests to the hills in the background. However, having played host to the Asian Tour on more than one occasion, this is not a golf course to take lightly. It may be set in a spectacular location but playing to over 7,500 yards from the back tees, Alpine Golf Resort is a real test.
An additional nine holes opened for play in 2016 and you can play on Thailand's only rice paddy green. The new holes have been cleverly mixed in with the old, so you can play a combination of the two at Alpine Golf Resort.
Location: East of Chiang Mai one hour from city
Birdies: Superb views and in excellent condition
Bogeys: Can get very crowded with Korean groups
Favorite Hole: The 15th – daunting 169 yards tee shot to an island green
A real gem in a beautiful location and midweek usually pretty empty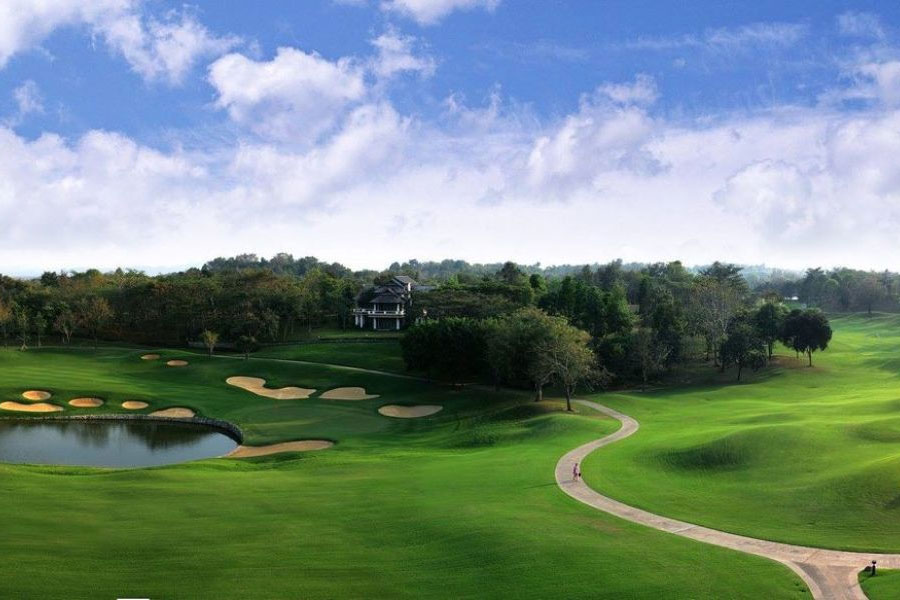 It's always difficult trying to select the best of anything as plenty of people are sure to disagree and there are other courses which arguably should have been on this list. Amata Springs in Bangkok, another course which hosts a huge professional event, has been excluded as it's almost impossible to get on without a member. Perhaps Navatanee which once hosted the World Cup of Golf should be here but is now showing its age and past its best.
Santiburi Chiang Rai Country Club opened for play in 1993 and was created by Robert Trent Jones Jr. Just a few kilometres from the centre of the city, this was the first golf course in Chiang Rai and it has earned rave reviews. Water plays a huge role in the layout of the course and combines with bunkers to offer the main challenge to players.
The undulating fairways and fast greens make this a genuine championship quality golf course and people travel from far and wide to play a round at Santiburi Chiang Rai Country Club. Many of the fairways are treelined and over them you can see the mountains of Chiang Rai, combining to give the course a theatre-like quality.
You will find Santiburi Chiang Rai Country Club is kept in good condition throughout the year and the restaurant serves a selection of traditional and international dishes. Having played one round at Santiburi Chiang Rai Country Club, you are sure to return for another.
Location: Around 25 minutes friom centre of Chiang Rai
Birdies: Wonderful setting - sometimes feels like your private course
Bogeys: Can get very crowded with Korean groups
Favorite Hole: The par-3, 17th with tee shot across the water hazard
So surprising to find a top-class golf course in such a remote location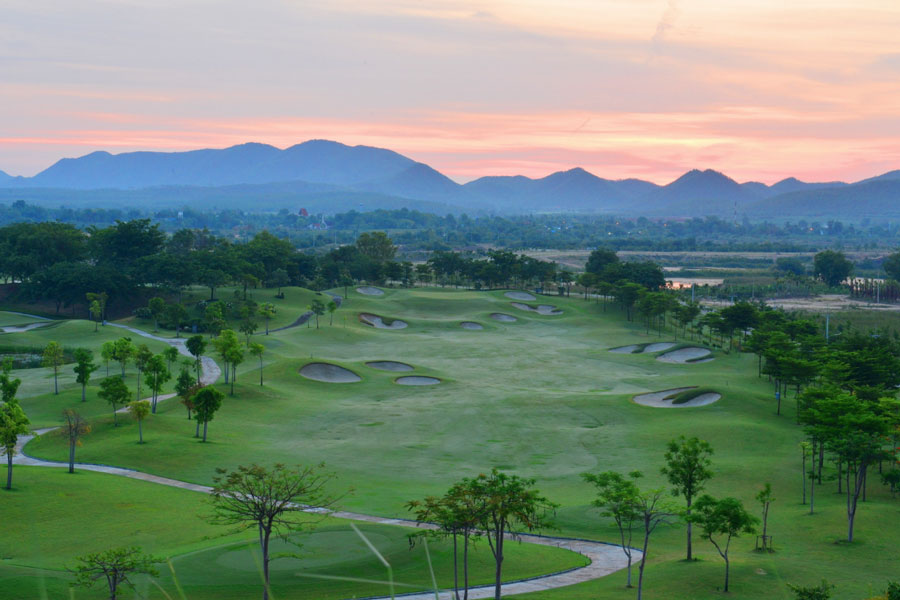 Kanchanaburi is a town located to the east of Bangkok and is not only home to the famous Bridge Over the River Kwai but also several fantastic golf courses. One of which is called Grand Prix Golf Club and this is an interesting course as it has links to the automobile industry. The name of the golf club makes that quite clear and you will find plenty of links to the company which is behind both the golf course and the Bangkok International Motor Show.
The course itself offers lovely views of the Burmese mountain ranges and there is a river which meanders through the 18 holes. Several of the fairways are split, which means you have a choice of approach to the green. The putting surfaces often have more than one tier, so considerate and accurate approach play is must to avoid the dreaded three putt.
There is a modern clubhouse and resort which offers accommodation and Grand Prix Golf Club is rapidly becoming one of the most popular golf courses in Thailand.
Whether you agree or disagree with our choice we are confident that if you play any of the courses on this list you are assured of a memorable day of golf.