Our pick of the best sports bars in Pattaya but buying golf through them not always cheapest
Click here to see list of Pattaya Green Fees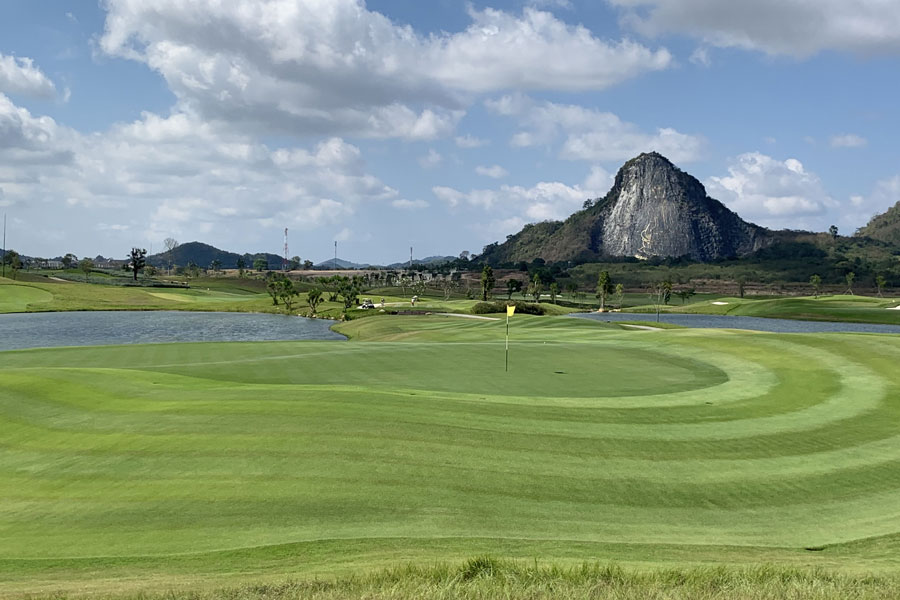 Pattaya is a fantastic place for a golf holiday. You will find the perfect combination of top golf courses, beaches, accommodation and activities to give you the golf holiday of a lifetime. Pattaya sports bars are very popular and shortly we will come to the benefits of these in terms of playing golf.
If you are new to playing golf in Asia and Thailand in-particular, Pattaya is a city located on the eastern Gulf Coast. It is just 150 kilometres from Bangkok and this makes it a popular place for locals to enjoy a weekend golf trip.
It takes just 2 hours to travel from Bangkok to Pattaya and you can easily find a flight direct to Bangkok from many European cities. Pattaya does have an airport of its own called U-Tapao-Rayong-Pattaya International Airport but this a small airport and although it does offer some domestic and international flights, they are limited.
You are advised to make the most of your time by flying to Bangkok, enjoying the golf courses and everything the city has to offer and then making the short trip to Pattaya.
Pattaya has a tropical wet and dry climate, with the best time of the year for playing golf falling between December and February. The temperatures remain hot but the weather is mostly dry and provides the best conditions for golf. However, this is the busiest time of year in the region and you should not ignore the other months, especially October, November and March when you will find good weather and fewer people.
Pattaya Sports Club
When booking tee times in Pattaya, you have several options and one of the most popular is to use Pattaya Sports Club.
Arguably the most popular sports bar in Pattaya is called Pattaya Sports Club. This club is located in the centre of Pattaya, next to Pattaya Golf Driving Range and the Ninja BBQ Buffet restaurant. The motto of Pattaya Sports Club is 'promoting sports and supporting local charities' and they feature an image of an elephant on a blue, white and red crest.
Pattaya Sports Club has been running since 1979 and at that time, things were much quieter in the town. However, as more people from Thailand and abroad started to visit Pattaya, the membership numbers of the club increased and in 1996, the club was officially recognised by the Royal Thai Government.
Organised events and tournaments became the norm and Pattaya Sports Club now has over 40,000 members and the sports enjoyed at the club include golf, darts, bowling and fishing. If you are travelling to Pattaya to play golf, you owe it to yourself to call in to the club and see for yourself.
Membership of Pattaya Sports Club is open to everyone and if you intend on playing golf regularly in Pattaya and the surrounding area, becoming a member could be beneficial. They organise a lot of tournaments and if you want to join, you can do so online before you leave and pick up your membership card when you arrive at the club.
One of the benefits of joining a hugely popular Pattaya sports bar such as Pattaya Sports Club is they will organise tee times for you at the various golf courses in the region plus transport to the courses if required. This can be very convenient for you if you plan on booking tee times as and when you please during a golf holiday in Pattaya.
However, sometimes it is easier to have a plan in advance, especially if you are not visiting Pattaya regularly enough to make a membership at Pattaya Sports Club worthwhile. Here at Golfsavers, we can take all the hassle away from booking tee times at the best golf courses in Pattaya including Siam Country Club, St Andrews 2000 Golf Club, Laem Chabang International Country Club and Emerald Golf Club to name but a few.
Price Comparison Chart: Pattaya Sports Club v Golfsavers (April-October 2020)

Not only will booking tee times through us save you precious time when in Thailand, we can often be cheaper than Pattaya Sports Bars, especially if you take any membership fees into account. That's not to say you should not enjoy being a part of a sports bar such as Pattaya Sports Club because it can be a great place to meet new people and fellow golf enthusiasts.
While Pattaya Sports Club may be regarded as the number one Pattaya sports bar, there are several other sports bars in the area which you can enjoy on your golf holiday.
Some Pattaya sports bars organise golf days and Sugar Shack is a good example. At Sugar Shack, you can book a space on one of their golf days, which are available Monday to Saturday and feature some of the best golf courses in Pattaya. Tee times are often taken quickly, so you will need to be fast and you can enjoy a round of golf regardless of your handicap, with both high and low handicap golfers welcome.
You will be taken to the golf course in an air-conditioned mini bus and picked up following the round and retuned to the Sugar Shack where you can enjoy a few drinks and something to eat. You can call into the bar to see what golf courses are scheduled for the week ahead and book a tee time on a golf course which takes your fancy.
If you wish to get competitive, Sugar Shack organise competitions every Friday and there are prizes for the top three golfers. In addition, you will find free food at the bar following the Friday competitions and if you don't have your own golf clubs, don't worry, Sugar Shack can hire you a set of clubs for the day.
Sugar Shack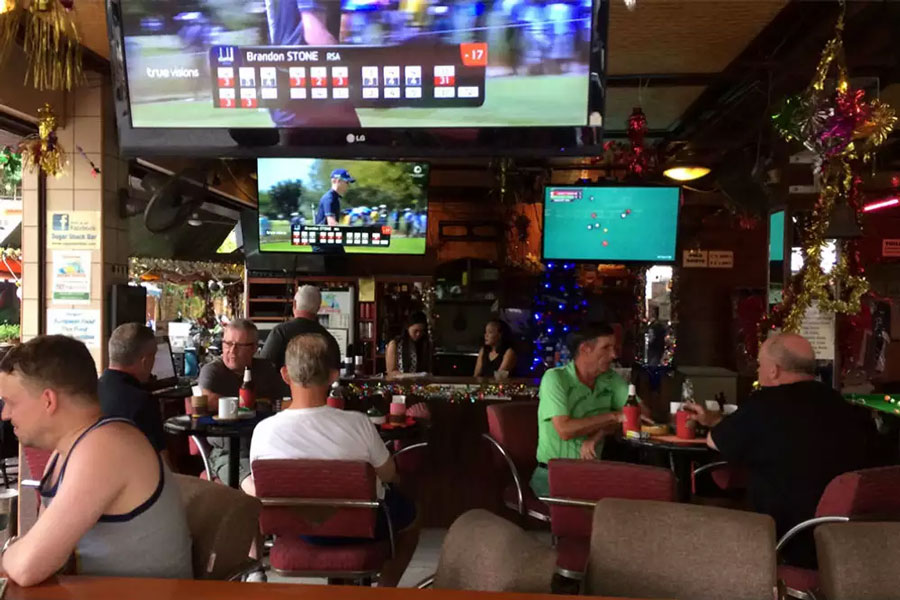 Sugar Shack also have pool table and big screens so you can catch up with the latest action on the PGA and European Tour or a big match in the Premier League. Again, you may not find the prices to be as competitive as Golfsavers when booking a tee time at Sugar Shack but if you would like to meet fellow golfers and participate in a friendly competition, it is a good choice.
The Sugar Shack also supports the charity work of Pattaya Sports Club and it is good to see them working together for charitable causes which provide scholarships, school uniforms and books to children who otherwise would be without.
Retox Pattaya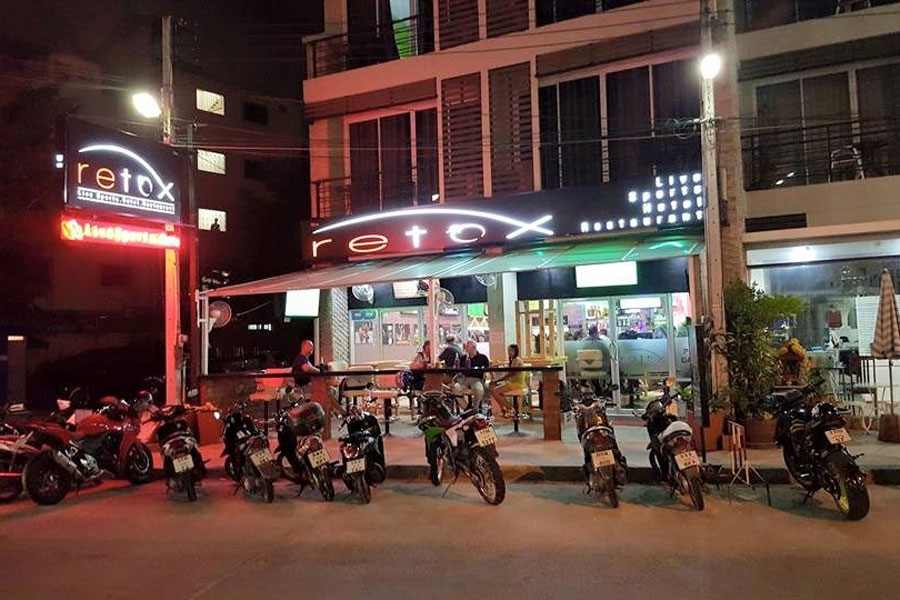 Another of the best Pattaya sports bars for golf is called Retox Pattaya. This is a top Pattaya sports bar and in addition to the live sports on big screens, darts, pool, drinks and food, they have special guests from the world of sport.
Big names who have appeared at Retox Pattaya include the boxer Frank Bruno and footballers Paul Merson and Ian Rush. If you happen to be in Pattaya for a golf holiday and want to meet a retired British sports star, you may be in luck at this sports bar.
Retox Pattaya have their own golf schedule, with events taking place across the best Pattaya golf courses. The schedule for each month is posted inside the bar and you can also access it on the website. There is a guaranteed tee time for each day and sometimes they have more than one golf course available per day, which is great if you want a choice.
You will need to pay the green fee, caddy fee and transport fee when you book a tee time at Retox Pattaya and this could be done more cheaply by using Golf Savers. Nonetheless, if you are in Pattaya and want to try a round of golf using the service at Retox Pattaya because you have free time or booked to travel at the last minute, it is a good way to get onto the golf course.
Blue Moose Sports Bar and Grill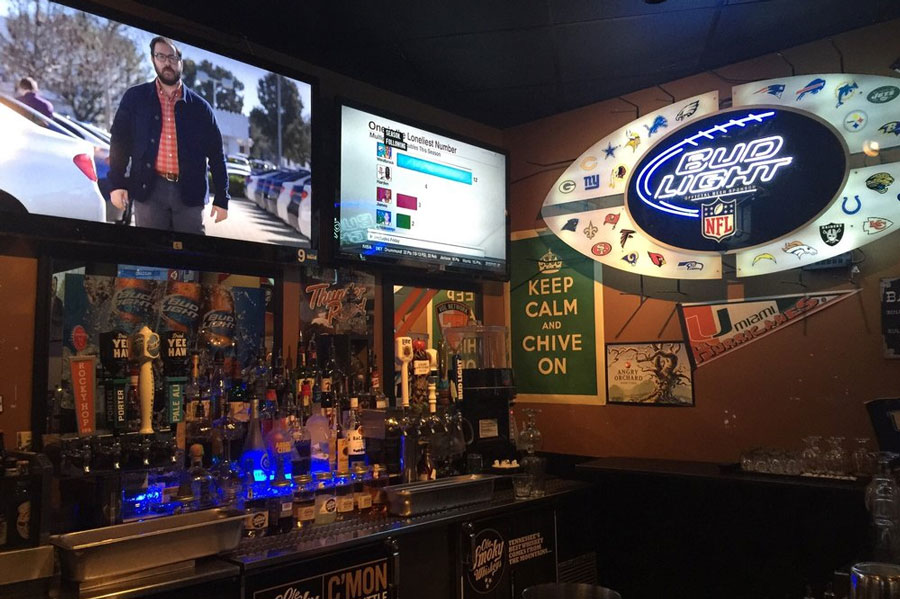 One of the newest additions to the Pattaya sports bar scene is Blue Moose Sports Bar and Grill. This sports bar can be found at Soi 9, just off Soi Khaonoi and is a nice place to have a beer and enjoy live sport on the big screen.
Blue Moose also offer food and you can order from a range of appetizers, entrees, pizzas, burgers and even a cooked breakfast if you are up and about early. They also have Thai dishes available if you want to try something different.
Playing golf is a possibility with Blue Moose and the owners of the bar are active in playing golf themselves, which makes it a nice place to book a round when in Pattaya. They organise a range of golf tournaments, with some taking place on a weekdays and others being played over the course of a weekend.
There are players of all ages playing golf with Blue Moose Sports Bar and Grill and you can become involved by booking a place at one of their next events.
I-Rovers Sports Bar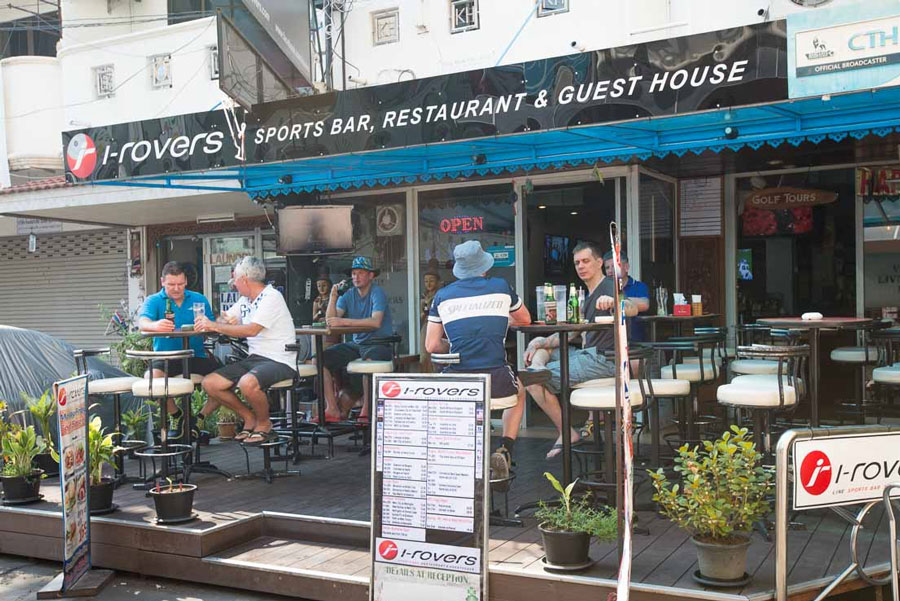 Finally, we come to the I-Rovers Sports Bar which is open 24/7, so whenever you fancy a drink or quick bite to eat, you can rely on this Pattaya sports bar to be ready to serve you. Situated in the popular central area of Soi LK Metro, I-Rovers Sports Bar has recently been renovated and you can enjoy a relaxing beer either inside the bar or on the decking area at the front of the bar.
They serve Western and Thai dishes but sports are the main attraction and you can not only enjoy all the latest live sport on the big screens but also participate in sports yourself, with golf being the main offering.
I-Rovers Sports Bar play rounds of golf every Wednesday and the only necessity is you are ready to have a fun, social round of golf. All you have to do is pop into the bar any time during the week and register your name on the sheet for the upcoming round of golf. It could be at any of the golf courses in the region, so you will need to ask where they are planning on playing before committing if you have a specific golf course in mind.
Despite being a friendly round of golf, I-Rovers Sports Bar also offer prizes for those who play well so there is plenty of incentive to do your best on the golf course. If you arrive in Pattaya without your golf clubs, I-Rovers Sports Bar can hire you a set and chances are, it will be cheaper than if you hired a set of clubs at the golf course.
However, there is no guarantee you are going to be able to play the golf course you desire when booking a tee time at I-Rovers Sports Bar or any of the Pattaya sports bars.
That's why it can pay to book a tee time using a dedicated golf specialist such as Golf Savers. Not only can you choose the Pattaya golf course you would like to play, you will find the cost of booking a tee time to be very competitive and often cheaper than using a Pattaya sports bar.