10 Golf Courses in Bangkok you can play for less than US$50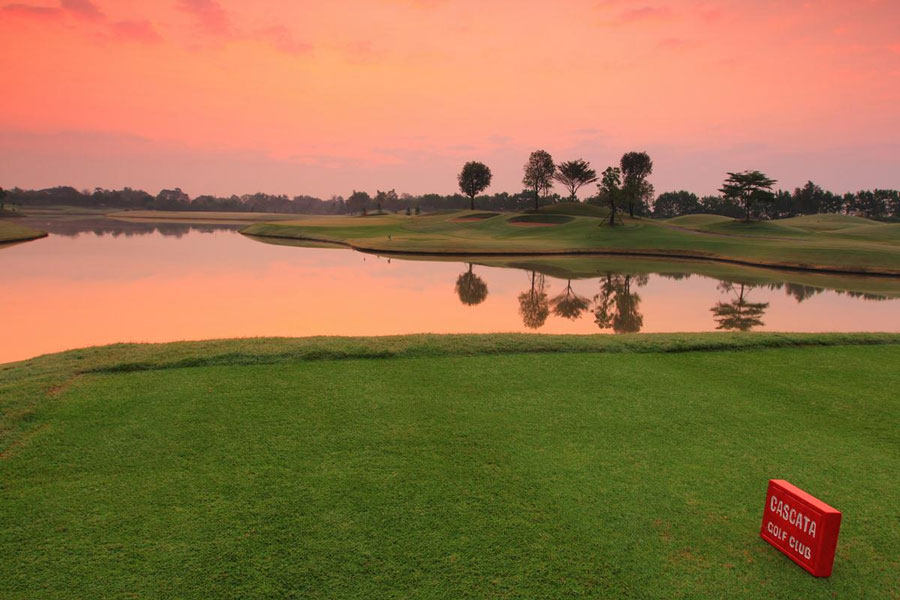 There are more than fifty golf courses in the greater Bangkok area and, although most of them fill up at weekends, they are usually wide open during the week and need to keep their green fees low in order to compete.
We have chosen 10 golf courses which can all be played on a weekday for a green fee of US$50 or less. They are all excellent golf courses and in some cases offer a better golfing experience than some of the better-known golf courses in Bangkok.
Beautiful course - one of our favourites and a real challenge for golfers of all standard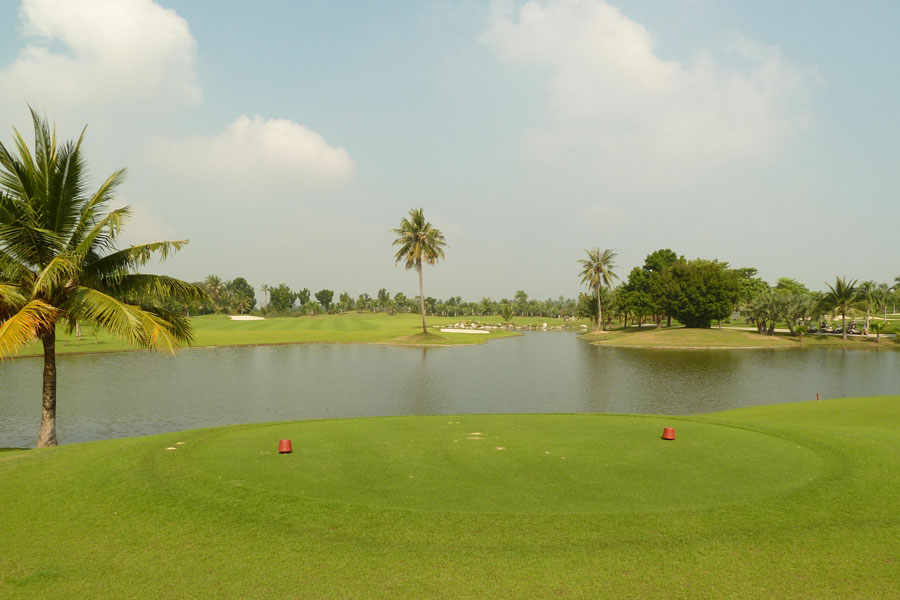 This is one of our favourite golf courses in Bangkok and a real hidden gem. The only drawback for this course is its distance from the city as it usually takes 90 minutes from downtown. Another course with a lovely tropical feeling as it is surrounded by mature trees, rice fields and the occasional pond full colourful lotus plants. Has won many awards and once hosted the Thailand Open a few years back.
Another feature of this excellent layout, which is always in tip-top condition, are the heavily contoured fairways and the numerous elevation changes, which is quite unusual for courses in Bangkok. If you can find a flat lie, then reaching the elevated and well protected greens is no easy task and once on the putting surface you are faced with super quick greens – especially from above the hole. Wild shots will be penalised with many OB areas, large fairway bunkers and numerous water hazards.
If we have to pick one hole it would be the 16th, a medium length par-3 with 6 huge bunkers protecting a heavily contoured green. Excellent clubhouse facilities offering all of the facilities you would expect from this top-notch course.
A green oasis not far from the city, offering an interesting challenge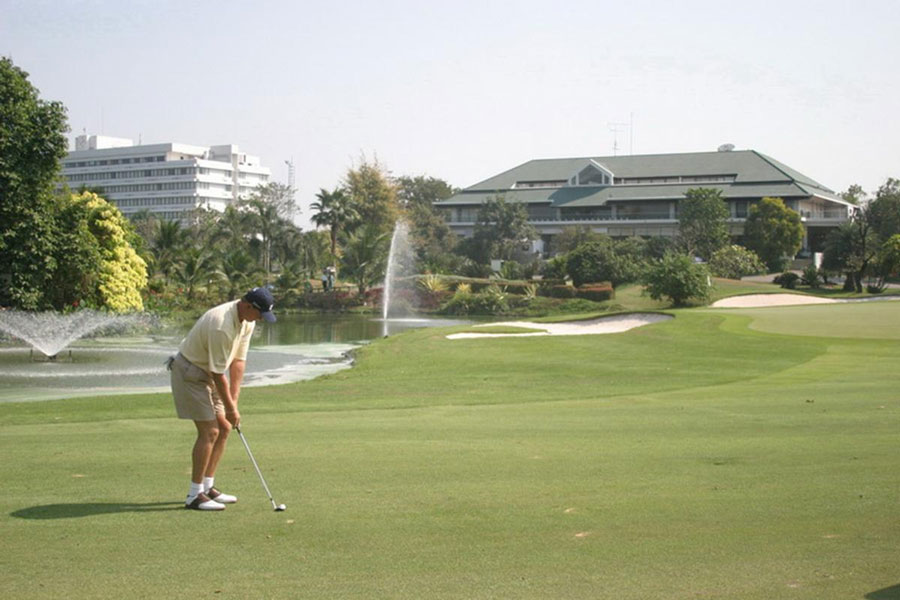 Bangkok Golf Club is very conveniently located and it usually takes about 40 minutes from the centre of the city. It's also a great place for play if you are using Don Mueang Airport as it's about 30 minutes west of the airport. The club suffered badly during the flooding in 2011 and as a result lost most of its mature trees and all of the greens had to be re-laid. It's quite a short course and is only 6,800 yards from the back tees but you need to beware as the course has plenty of bunkers and water hazards to trap the wayward shot.
The par3, 11th hole is particularly memorable and features an island green protected not only by the water but also a large bunker. The 9th hole is a long dogleg par 5 that was once included in a list of the 500 best golf holes in the world. The course also offers night golf if you want to organise a game after work.
The club is now managed by the MBK group which also manage Riverdale and Red Mountain in Phuket so we are expecting the course will continue to improve.
The club house is a little run down but the facilities are adequate and include traditional Thai massage, pro-shop, locker rooms and a choice of Western and Japanese restaurants. Reasonable practice areas with driving range and short-game practice facilities.
A rare Arnold Palmer designed course and an excellent choice for budget conscious golfers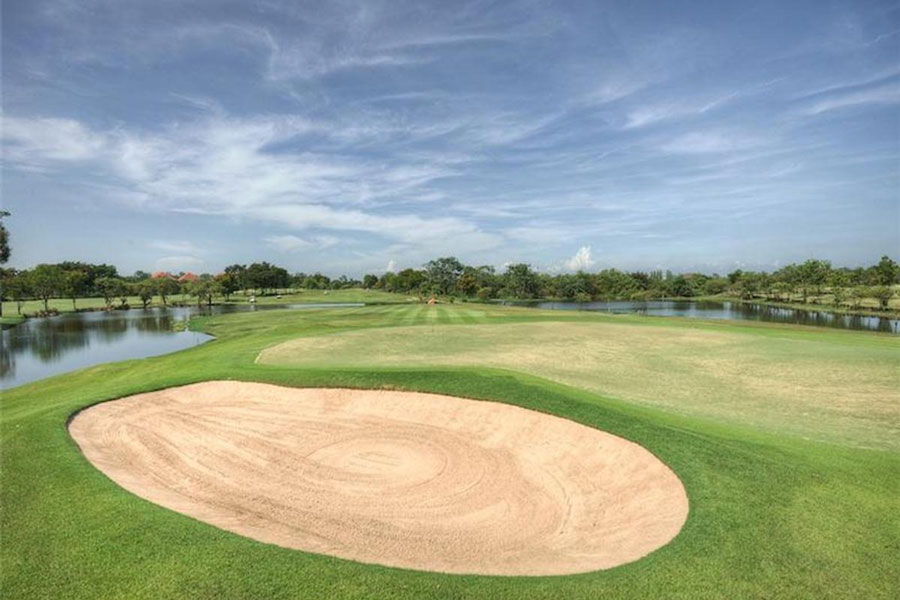 Bangpoo Golf & Sports Club is an excellent choice for the budget conscious player who is looking for an inexpensive round of golf in Bangkok. This course was designed by legendary golfer Arnold Palmer and being quite close to the Gulf of Siam it is often subject to the prevailing winds which will help to cool you down as you play your round. Arnold Palmer was not a prolific golf courses designer so this an opportunity to test your game against the only course in Bangkok which bears his name.
Despite the fact that it is close to the ocean there is actually not too much water on the course which makes it a fairly friendly course for higher handicappers. The main protection comes from the wind which often blows onshore making club selection a challenge. Plenty of mature trees and native plants make for a very enjoyable round.
It takes around one hour from the centre of the city almost due south and it can be a little tricky to find so you will need your Satnav!
4. Best Ocean Golf Club
Make sure you take plenty of balls if you take on challenge of one of the most difficult courses in Bangkok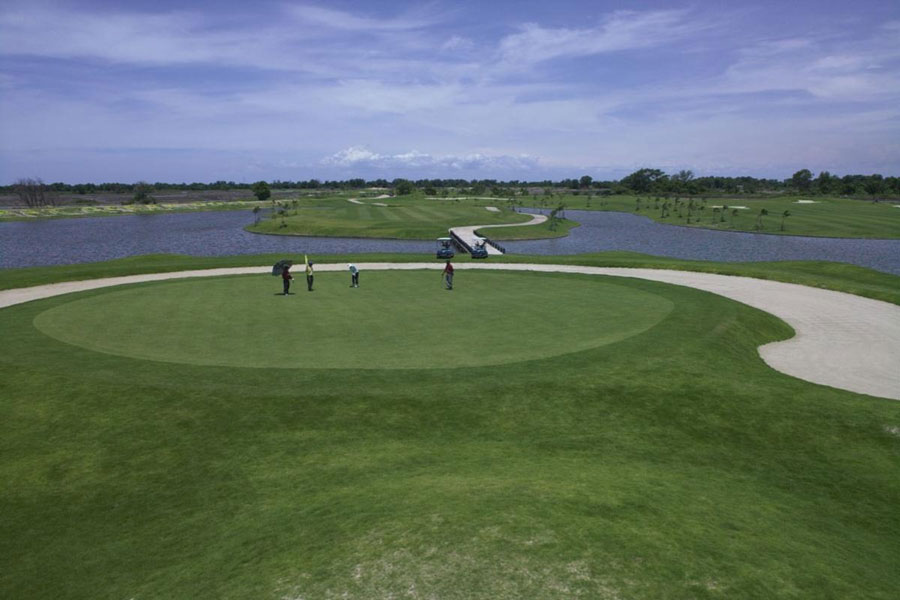 Best Ocean Golf Club is a bit further outside the city and takes around 60 minutes from the Sukhumvit Road area. The famous design team of Schmidt and Curley have been very active in Thailand and they have moulded this links-style course into one of the most challenging golf courses in Bangkok. The course is made more difficult as you will also have to combat the prevailing winds which blow across the course from the nearby ocean from which the course gets part of its name. If you are a higher handicapper we suggest you select one of the forward tees as it's very long from the blue tees and there are numerous water hazards which add to the difficulty.
The water hazards also have the effect of narrowing the landing areas which are also sprinkled with fairways bunkers and if that wasn't enough the elevated greens are difficult to hold which means that your short game will be severely tested.
Enjoy this excellent links-style course; just keep well away from the deep and testing bunkers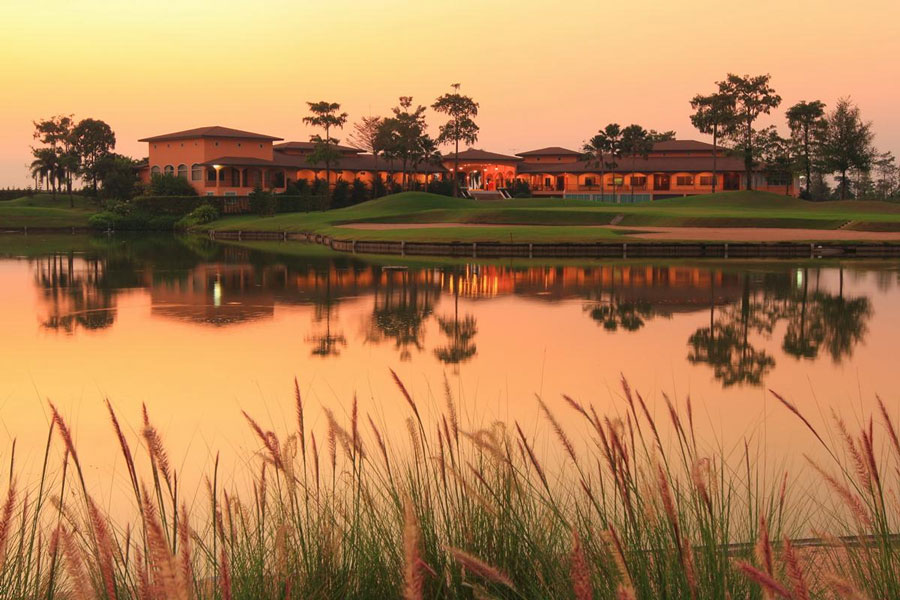 This is a really great course and the only reason more people don't play here is because its located about 90 minutes north-east of the city and can take longer if the traffic is bad. The club offer 36 holes of championship golf so it's not difficult to get on the course. The club is unique as the layouts offer a very different golfing experience: the original A & B courses are very typical of many parkland courses in Bangkok with a distinctly tropical feel but the C course is more links-style and is more reminiscent of Scotland than Thailand.
The newly-constructed D course is described as a "Valley and creek golf experience" with plenty of mounds which often narrow your approach to the green. The standout hole on the C course is the par 3 4th which is a beautiful par 3 which was once on the list of "The Best 18 Holes in Thailand".
The A & B courses are heavily bunkered with water a factor on almost every hole. The C course, although it has fewer bunkers, has even more water with several difficult water carries off the tee boxes. The D courses is slightly friendlier and its main protection are the many bumps and hollows.
The Spanish-style clubhouse has all the usual facilities with nearby practice facilities.
Avoid the crowds at this great value 36-hole layout in a beautiful natural setting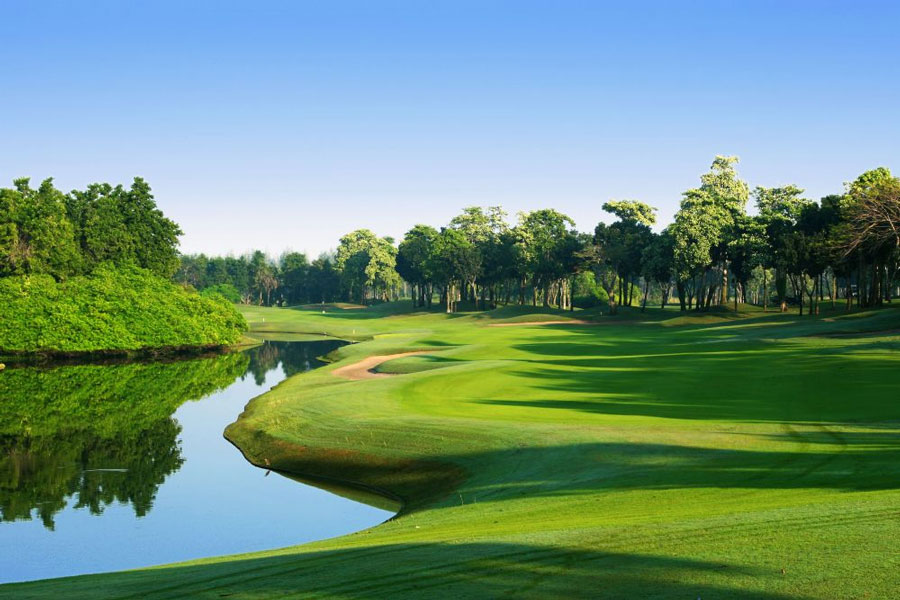 Lam Luk Ka offers a real escape from the city because it is a bit further out than most other golf courses offering a more rural setting and you feel as though you are in the depths of the countryside. Depending on the traffic you can usually get here in around one hour. The two courses wind though the natural wetlands and have a very similar feel with plenty of mature trees lining the fairways with water a factor on almost every hole. It really doesn't matter which combination you play which is just as well as they often close one nine for maintenance and create a composite course.
The East Course is marginally longer than the West Course and therefore feels a little more difficult. Despite the many trees and natural water features they keep the rough and semi-rough a reasonable length so that you usually have a shot if you get off line. One notable feature of Lam Luk Ka is the greens which are some of the best in Bangkok and are a joy to putt on.
Plenty of facilities around the rather ageing clubhouse including an oversized swimming pool, an excellent restaurant overlooking the 18th green on the East Course and some good practice facilities including a grass driving range and two short game practice areas.
Premier golf oasis in the city, offering luxury, championship courses, and a serene escape.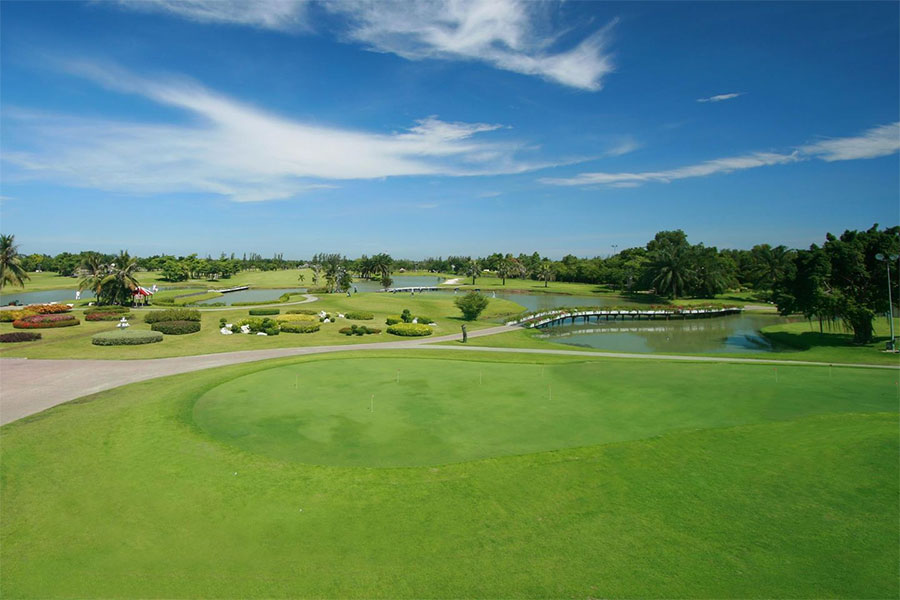 Pinehurst Golf & Country Club, situated in the heart of Bangkok, is a prestigious and exclusive haven for golf enthusiasts and those seeking a luxurious recreational escape. This world-class golf facility stands as a testament to the harmonious blend of nature and sophistication, offering a serene oasis amid the bustling city.
The championship-standard 18-hole golf course is meticulously designed, featuring lush fairways, strategic bunkers, and well-manicured greens that provide an exhilarating challenge for golfers of all levels. With its impeccably maintained landscapes and stunning water features, the club's natural beauty is a sight to behold.
Pinehurst doesn't just cater to golf aficionados; it offers a range of amenities and services designed to cater to every aspect of a golfer's needs. The club boasts a modern clubhouse with exquisite dining options, a well-appointed pro shop, and expert instructors for those looking to improve their game.
What sets Pinehurst apart is its commitment to creating an inviting, luxurious, and unforgettable experience for its members and guests. It is more than just a golf course; it's a lifestyle destination, a retreat from the city's hustle and bustle, where every visit is an opportunity to indulge in the finer things in life, surrounded by the beauty of nature and the elegance of golf.
This is a course for big hitters looking for a bargain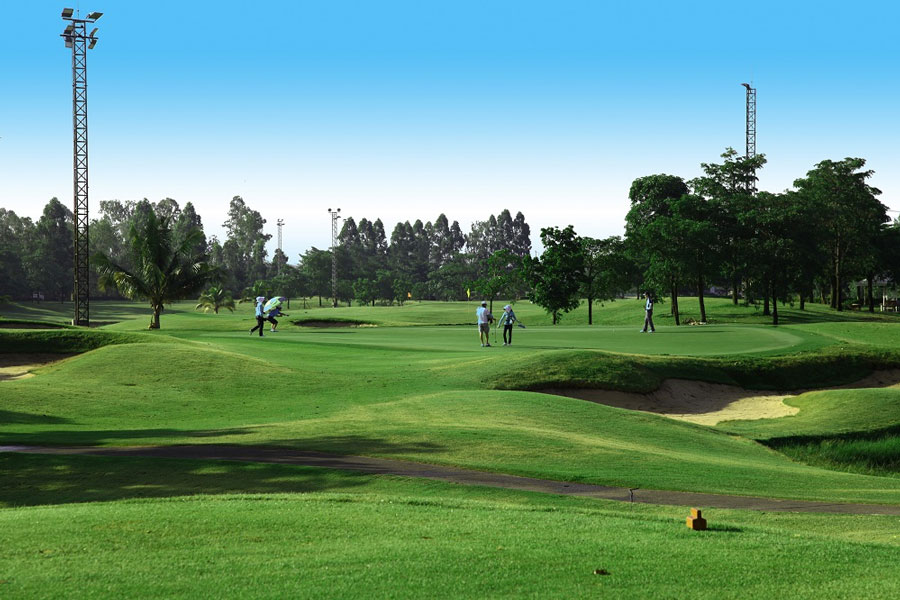 Another course on the outskirts of the city, about 60 minutes due north of Bangkok, offering a slightly different challenge to many of the golf courses in Bangkok. Most golf courses in Thailand have heavily protected greens which means you are forced to use a wedge to get onto the green. This is not the case here and they have designed the course with wide-open approaches which gives the opportunity to play low chip shots and run your ball onto the green.
Some long holes here and long hitters will score well but high handicappers might struggle on the par 3's which are all around 200 yards or more off the back tees and will have you reaching for your rescue club. Quite a lot of water on the course including several that are not obvious from the tees so you will need the guidance of your caddie to keep you ball dry.
Being a bit further from the city, the course is much less crowded than the other courses in and around Bangkok so you should have a nice relaxing round, especially midweek. You can also play at night here as the courses is floodlit.
Three classic parkland nines and one other really challenging - slow greens make things easier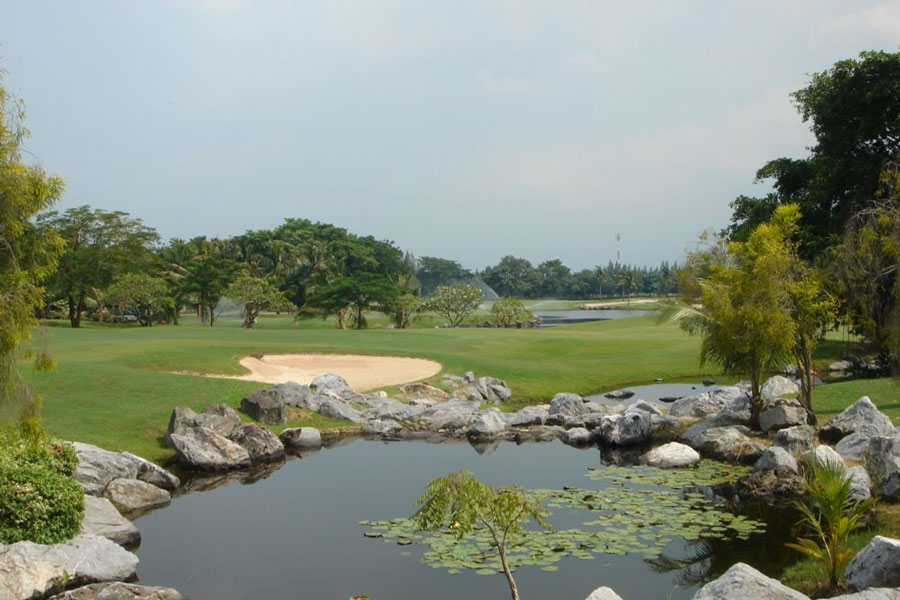 Another 26-hole layout, this course is a big favourite with Japanese and Korean golfers who are not renowned for their pace of play nor their application of golf etiquette so a round here can often be a bit slow, especially at weekends. The original three 9-hole courses (Garden, Palm & Lagoon) are quite similar with numerous dog-legs, heavily contoured fairways and the well-maintained greens which are kept deliberately slow in an effort to speed up play.
Lots of bunkers – especially on the 3rd hole of the Palm Course which has more bunkers on one hole than we have ever seen. You had better practice with your sand iron before you start your round. The Lakeside nine, which was built more recently than the others offers the most difficult challenge. As its name suggest it winds around a large lake and this lake comes into play on six of the nine holes. Particularly memorable is the third hole which is a par-5 with the lake protecting the entire left side with a green which extends into the lake which means that water fronts the green and makes the approach much more difficult.
The clubhouse facilities have seen better days and the upkeep of the courses are inconsistent but these are the only negatives on this popular course.
Fast and true greens are a feature of this 27-hole layout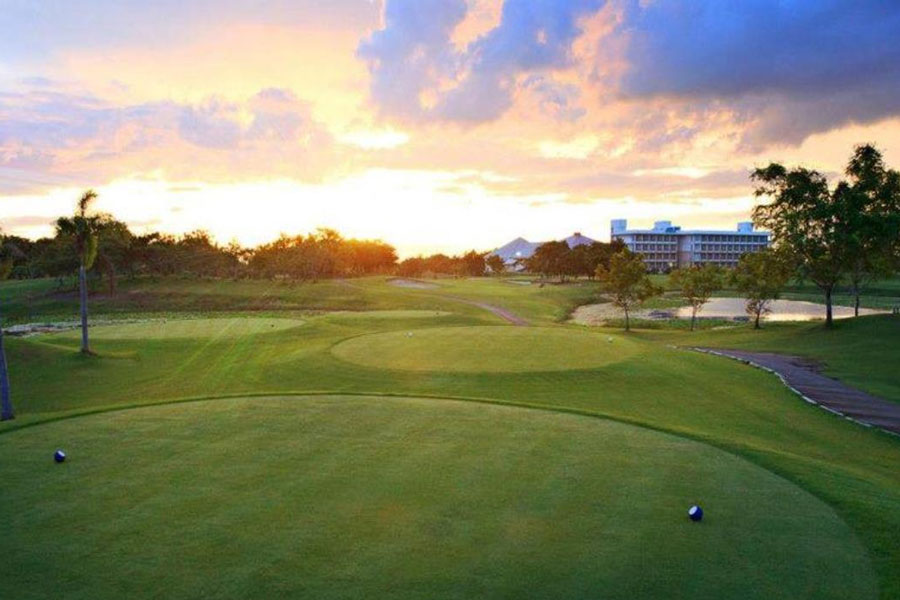 Uniland is a 27-hole layout located about 90 minutes due west of Bangkok and is a good course to play if you are on the way to Hua Hin as it does not take you too far out of your way. The three 9-hole layouts are known rather unoriginally as A, B & C – they obviously never got around to naming them.
Each of the courses offer quite a different challenge: The A course has plenty of trees and water hazards and our favourite hole is the seventh, which demands a 180 yard carry to a blind green with only the top of the flagstick visible. The B Course has even more water and most of the holes dogleg either right or left so it's challenging to find the right position off the tee. Here you will find the signature fifth hole - a 641-yard beast. The C Course offers more of the same although it features more severe undulations and elevation changes. Fast and true greens are a feature of all three courses and one of their major selling points.
Excellent clubhouse facilities and modern changing rooms complete the picture of this little-known course in Bangkok.